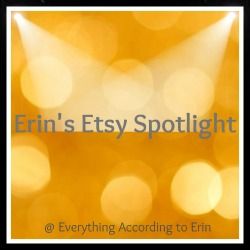 Do I have a surprise for you today! The shop featured today is the amazing
Blue Bird Bride
. I have been a fan of this shop for a while. I came across it months ago through a giveaway and I was so glad I had it as one of my favorite shops on Etsy. I have a weakness for jewelry in general, but especially for bubble necklaces! Who doesn't love those?
It was so hard to pick out a couple items that were my favorite so I could showcase them for you guys! I literally had to vote on them. See who made the cut.
A bubble key chain??? That's the cutest thing ever! And a great gift for the holidays, btw. So what's another great thing about Blue Bird Bride? Diane, the lovely owner of the shop is giving away $20 to the store!
Going to buy something anyway? Make sure to use the coupon code, FALL2012, exclusively for Everything According to Erin readers and save 15%!
Good luck!!
Have any recommendations for an Etsy spotlight? Do you have an Etsy shop and want to be featured?
Email me, we'll chat.
a Rafflecopter giveaway
♥ Erin