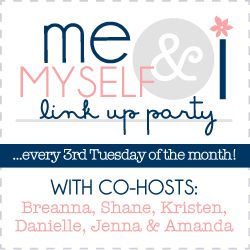 I'm linking up again with:
I am so excited for this month's questions! Ready?
What are your top 5 favorite movies to watch during the Holidays?
Top 5?? How about top 10? LOL. There are so many that I absolutely love. I'm just going to name them all.
Elf
Home Alone
Love Actually
The Grinch (with Jim Carrey)
A Christmas Story
Miracle on 34th Street (the newer one)
It's A Wonderful Life
Scrooged
The Nutcracker
Rudolph the Red Nosed Reindeer
The Santa Clause
Those are watched constantly during the holiday season.
It's the month of giving thanks, what are you most thankful for?
I'm definitely thankful for having friends and family that are happy and healthy. I'm also extremely thankful for a wonderful fiance, who makes my dreams come true every day.
If there was a quote or verse to describe your life, what would it be?
"Life is an opportunity, benefit from it.
Life is beauty, admire it.
Life is a dream, realize it.
Life is a challenge, meet it.
Life is a duty, complete it.
Life is a game, play it.
Life is a promise, fulfill it.
Life is sorrow, overcome it.
Life is a song, sing it.
Life is a struggle, accept it.
Life is a tragedy, confront it.
Life is an adventure, dare it.
Life is luck, make it.
Life is too precious, do not destroy it.
Life is life, fight for it."
-Mother Theresa
I try to think of this quote every day.
Who in your family are you most alike?
Wow, I'm not really sure. I think I'm a good mix of both my parents. I'm very type A like my dad, but I can be kinda ditzy like my mom. Every once in a while I'll do things and someone will say, "That's so Poppop or Uncle Karl" so I guess I have attributes from everyone in my family.
What is your favorite drink order at Starbucks?
I'm more of a Dunkin' Donuts girl so I only buy Starbucks during the holiday season. I'll either get a Caramel Brulee Latte, Salted Caramel Mocha or a Salted Caramel Hot Choc

olate.
♥ Erin