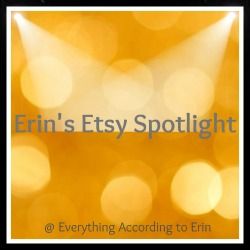 This week, I'm happy to highlight a shop that is owned by a good blog friend. After blogging for 3 years, there are people that were around in the beginning. People that you just happened to connect with and have been blog friends ever since.
I'm talking about my sweet friend Frances. She has a very cute blog called
It's Sew My Style
, but she also has an
Etsy shop
with handmade purses, totes and jewelry. And her prices? AMAZING!!
Make sure you head on over to her
shop
to check out more!
You should really scope it out because I may or may not be giving away something from her shop next week.
Just sayin'.
Have any recommendations for an Etsy spotlight? Do you have an Etsy shop and want to be featured?
Shoot me an email, let's talk.
♥ Erin