The big day is finally here!!!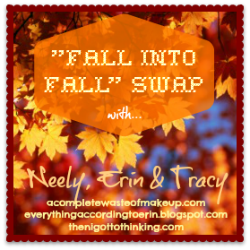 I just want to say thank you to everyone who participated in this swap. I know we had to do some rearranging for some people, but I think everything worked out.
Without further ado, may I introduce my fantastic swap package that I received from the wonderful
Neely
.
Neely and I go way back and I now call her an IRL friend because we finally met this summer in NYC (which was awesome). And even though we have rival football teams (she's a Dallas Cowboy's fan and I'm a Philadelphia Eagles fan), we don't let that ruin our friendship!
Anywho, she is a great swap partner because she knows EXACTLY what I like.
Real Simple Magazine
Reese's Minis
I'd Rather Be Shopping Post-Its
Notebook
Soft Lips Lip Balm
Nail File
2 OPI Polishes
The best part?
This card.
Had me rolling.
She's the best.
Make sure you link up your reveal posts! I want to see what everyone got!
♥ Erin