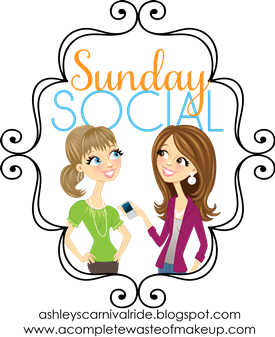 I'm linking up with
Neely
and
Ashley
for this week's installment of Sunday Social!
Favorite TV show of the past
Well I have tons of shows that I used to watch. Of course there's recent shows that have gone off the air like One Tree Hill, Sex and the City, West Wing, Felicity, Buffy, Angel, you know CW/WB shows are my weakness. But if we're gonna go into the past then I must bring up Golden Girls, 7th Heaven, Blossom, Boy Meets World, Dinosaurs, Family Matters, My So Called Life, original 90210 and Melrose Place, Picket Fences, Clarissa Explains It All, Step by Step and Twin Peaks. I also have to throw out there SNICK (Saturday Night Nick): Are You Afraid of the Dark?, Alex Mack, All That, Ren & Stimpy, Pete & Pete. And how can you forget about Nickelodeon's classic cartoons: Rugrats, Rocco's Modern Life and Doug. Anyone remember Hey Dude? Oh those were the days.
Favorite TV show currently
Too many to pick just one: Gossip Girl, The Vampire Diaries, Supernatural, True Blood, The Killing, Boardwalk Empire, Revenge, Big Bang Theory, SMASH and Spartacus.
Which Reality Show would you NEVER do?
Probably bachelorette (sorry, I know a lot of you watch it) because it's just so ridiculous and fake. However, you can sign me up for Mob Wives, LOL!
Which Reality Show would you LOVE to do?
Definitely Amazing Race (even though Tim thinks we'd kill each other) or Dancing with the Stars because I would love to be taught how to dance like that.
TV personality/character that you feel is most like you?
That's easy.
B. Davis
I'm definitely a good mix of high school Brooke and adult Brooke, but I curse more because I'm not on cable.
A really good Brooke scene.
TV character you'd want to date?
Wow, that's a really tough one...
Damon Salvatore
The Vampire Diaries


Stefan Salvatore
The Vampire Diaries
Alcide Hevereaux
True Blood


Definitely one of those three if it was a current show, but if I had to choose from all shows it would HAVE to be...
Lucas Scott
One Tree Hill
See you next Sunday for Sunday Social!
♥ Erin