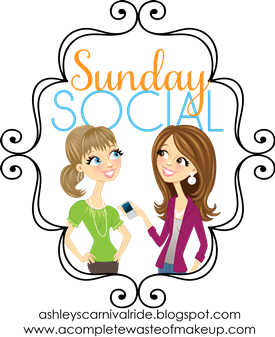 What is your favorite store to shop at?
Hmmm, this is really tough. You guys pick super hard questions!!
Ok, I'm just going to tell you everywhere I shop and you'll have to get over it.
My favorite thing is getting the biggest bang for my buck. H&M, Old Navy and Forever 21 are great for getting a lot of clothes for not much money. And then there's stores like Nordstrom's Rack and Marshalls that help me take care of my designer label craving.
If you could afford anything and everything, which designer brand would you covet?
Most of my money would probably go to Michael Kors, Dolce & Gabbana and Marc Jacobs.
My first choice is obviously going to be a great pair of jeans. Jeans that can convert to a couple seasons are the ones I love the most. I have a pair that is perfect to wear under boots, with flats, with heels and can be rolled up to capris in the summer. To me that's a perfect pair.
However, in going with current trends, I'm going to have to go with the Chambray shirt.
via (thank you Average Girls Guide)
This was an item that totally snuck up on me. I'm not usually a fan of denim on top. Even though most of these aren't even technically denim, it still creeped me out at first. This has quickly become my favorite trend of the year. It's versatile. It can dress up, dress down, you name it. I love the difference in colors and textures too. I currently own 2 of these shirts, one is lighter and one is darker. I wore them in the winter and in the summer. This to me is the staple of the year.
Favorite kind of shoes? (brand or type)
I think my favorite brand is Steve Madden. I think it's a tie between his and Michael Kors.
As far as favorite kind, I love me some heels, I love me some boots, I love me some flats and I love me some wedges. To be honest though, I'm most comfortable in...
Yep, that's right, flip flops! This may shock all of you, but I just love them. I probably have the most pairs of these than any other type of shoe in my closet. I don't really enjoy having my feet covered and I tend to wear flip flops March through November. A fun fact I'm sure most of you didn't know about me.
Best clothing deal you've ever gotten? (sale or amazing find)
I find deals all the time (for serious). I am a deal master, I was trained by the best (my mom).
Earlier in the season I bought 2 jumpsuits, one from Target and one from a store called Body Central. I posted about the Target one here.
They both sat in my closet for at least a month and I ended up returning both of them. The one from Target was too big for me and when I went to get a smaller size, they were all out. Also, and I didn't realize this when I tried it on, I think I had a defective one. I think it was backwards, it was really weird. The pockets faced the wrong way and the waistband was messed up.
The one from Body Central looked great on the mannequin, but at the end of the day made me feel to self conscious. I feel that those looks are fitted more towards very thin women. I'm thin, but I have boobs, butt and athletic thighs. I don't have a super small frame. So I'm glad I "tried" to try it, but it just wasn't for me.
Target
Body Central
Don't forget to check out my blogiversary giveaway going on right now!
♥ Erin