In case you didn't see my earlier
post
today (which you should), I have been a little MIA due to a really freak migraine cluster that lasted about 6 days. Even when they were light, looking at a computer screen was torture (so was my phone). So sorry for the slight absence, but now I'm back and I'm sure you're so happy about it.
Even though it's late Tuesday night, I'm still gonna post my Sunday Social. I always have to represent my girls
Neely
and
Ashley
.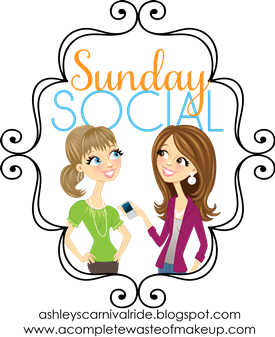 Best trip you've ever been on
For Tim's 30th, I surprised him with a trip to the Dominican Republic. We had never been out of the country together and we had an absolutely amazing time.
We had views like this
We smoked Cubans (well Tim did)
We were on a boat!
With our flippy floppies
We met some really awesome people from Arizona and Canada
And we had amazing pictures taken of us while we were on an excursion
It was the best vaca ever
Best idea for a girls weekend trip
I feel like anything would be an awesome girls weekend trip. I would definitely love to do Vegas, NYC or even Atlantic City with my girls.
Best idea for a couples trip
Definitely something in Napa or Tahoe, that would be an awesome trip with another couple. I've also heard that Banff National Park in Alberta, Canada is fabulous. A friend of mine recommended two hotels there.
Fairmont Banff Springs
Fairmont Chateau Lake Louise
Both are beautiful in the summer or the winter and I would love to visit especially with friends.
Best vacation on the cheap
Around us you can do a night or two in Philly for not too much, they are always running deals. You can also take a quick trip to the beach. If you go to AC (Atlantic City) in the summer, you get the best rates during the week. Also, the Poconos are not a far drive at all. Most of the ski resorts have some sort of water park in the summer. Plus the outlets are up there!
Place you most want to visit
My list is so long.
Italy, Fiji, any one of the French Polynesian islands (i.e. Bora Bora, Moorea or Tahiti), Santorini, Mykonos. They are probably the places I want to go the most, but I really want to travel. I've only been to a couple Caribbean Islands and I definitely want to see more of Europe and South America.
Vacation necessities:
iPod
iPad
Magazines
Books
Easy slip on shoes, flats or boots
Sweater
Water
Tissues
Snacks
Antibacterial lotion
Sleep mask
Lip balm
Advil
Makeup
Deck of cards
And of course a cute tote to hold all of it. I like to use...
Michael Kors Tote
Urban Expressions Carry All
♥ Erin