So I'm a giant idiot. I was looking forward to joining this AWESOME link up with
Neely
and
Ashley
as soon as I heard about it. So what did I do? I immediately wrote the post. Pretty cool, right? Wrong. I was so excited I forgot to schedule it for yesterday. Duh! It was still in draft mode when I realized it late last night. Since I wrote it, you are getting it...one day late. My apologies and I will be on point and ready to go next Sunday.
Make sure you're ready to link up next Sunday for Sunday Social with Neely and Ashley!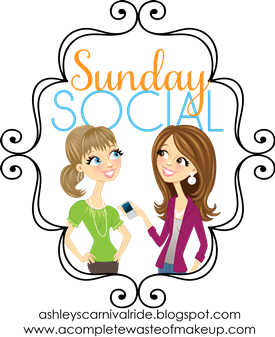 How did you come up with your blog name?
To be honest, it really didn't take me all that long. I think I thought about it for 3 minutes. I knew I wanted my blog to be about what I like to do, like to eat, like to try, etc. What else could I call it but Everything According to Erin?
What is your favorite thing about blogging?

Definitely the friendships I have made by doing this. I mean I just went to NYC with 5 girls I didn't know (in person). Who can say that? There are people I'm friends with from blogging that I have better connections with than people I see everyday. Also, getting free stuff isn't so bad either.

What is one thing you have discovered because of blogging and now cant live without?

I don't think I could possibly pick one thing. There are products and stores I would have never given a thought to if it hadn't been for blogs. I can credit almost every blog I read with introducing me to something new that I love.

Facebook or Twitter?


No contest, Twitter. Twitter is kind of an extension of our blogs. We promote them on Twitter and discuss what was posted with everyone on it. It's how you really connect with your followers and ultimately get your blog out there.

If one celeb read your blog who would you want it to be?

I have a massive girl crush on Kate Beckinsale. I love her style, her movies, everything! If she read my blog, I would just die.

What is something you want people to know about your blog?

What you see is what you get. This blog is an extension of me. I do this because I enjoy it. I don't do it get a bazillion followers, even though that would be nice :)
Most importantly, this is a blog about my opinion and what I like, but please don't hesitate to share yours. I love feedback even if it's criticism.
♥ Erin