So yes it was Valentine's Day and that gave me an excuse to go buy a new outfit (well we WERE going out to dinner...). I always like to dress up for an occasion!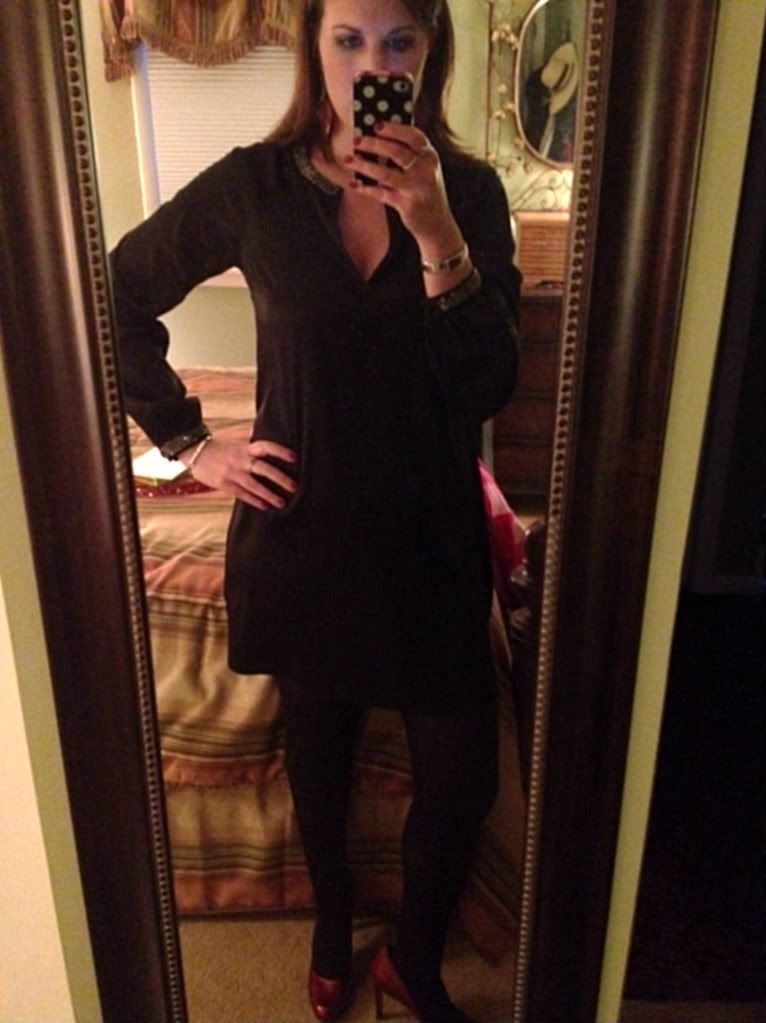 The full length
Dress from H&M
Tights from H&M
Earrings from Tarina Tarantino (won from a giveaway)
Patent leather red shoes from BCBG
Here's a close up of the top, the neck and wrists had shiny crystals all around them.
A close up of the sleeve
A close up of the earrings (love them)
A close up of the shoes ( I call them my Dorothy shoes)


And to top it off, I tried the new L'Oreal polish I got in my Valentine's Day swap!
It's Violet Vixen and I used my e.l.f. Golden Goddess on my ring fingers (see polish here)
I was so happy I bought this dress. I don't know if you guys remember that it looks just like the one I got during Christmas that's hot pink (see
post
). I'm really loving the tunic dress style right now. Currently Kristen from
Love, Lipstick and Pearls
, Danielle from
Sweet Nothings
and I are hunting down a mint version of this dress that is currently sold out. We're all very bitter about it actually. The dress is from Tobi and if any of you can find three of them for us please let us know!
Isn't it beautiful? I feel like I need to issue a missing dress alert or something. The three of us have been hunting for it for days and Danielle might just head down to the warehouse and get them for us! That would be awesome, if they don't remove her from the property. LOL.
Anyway, how was everyone's Valentine's Day? Did you get anything fun or buy anything fun for yourselves?
If you haven't already make sure you do two things for me today, #1 enter the swap I'm hosting with the lovely and talented
Krystal
and
Jennifer
. Who doesn't love to celebrate Spring AND Pi? Yes, we're nerds and we love it. And please, feel free to post the button on your blog, blog about it, tweet about it, whatever!
Also, you have until next Tuesday, February 21st to enter my sweet
sneakpeeq giveaway
! They are having some amazing boutiques going on right now that are soooo cheap! Go sign up!
♥ Erin