So thanks to all of your help spreading the word, I hit 200 followers yesterday! Woohoo! I remember just starting out and only having 30 followers and being amazed at that. At the end of the day, I write about what makes me happy, but it's you guys who drive me to do this everyday. Thank you so much from the bottom of my heart. I cherish all the awesome friendships I've made from blogging and hope to make many more!
Now down to the fun stuff. Like I said on twitter and on here a couple of times, the fantastic Kat at
Mary and Dyer
will be hosting my 200 followers giveaway. Since it's the end of the week (and Friday the 13th), I'm going to officially announce the giveaway on Monday. Just want to work out some details and start next week off with a bang! So look for this button come Monday morning!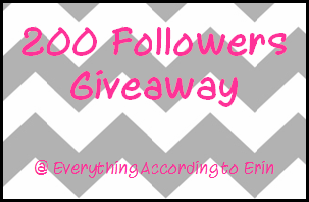 And while you're here checking out what I'm giving away on Monday, you can also link up your Favorite of the Week posts!
Have a great weekend everyone! See you on Monday!
♥ Erin