One of my bloggie BFF's, Kristine at
Living a Barefoot and Crazy Lifestyle
, posted this awesome Christmas Quiz over on her blog the other day. I told her I loved it and that I was going to steal it from her. If you don't follow her already, you must head on over there right this instant. She's a great girl and her and I clicked immediately as I'm sure most of you will! Anywho, enjoy my Christmas Quiz to get you ready for the big day! Enjoy!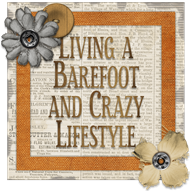 1. Eggnog or hot chocolate? Apparently my Dad makes a mean eggnog, but I've never tried it. So I'm gonna go with hot chocolate as long as it has some Bailey's in it!
2. Does Santa wrap presents or just set them under the tree? Uh, he wraps everything! He's freaking Santa, duh! Who doesn't have wrapped presents under their tree? (Not trying to offend anyone if that's how they roll)
3. Colored lights on tree/house or white? I don't have a preference as long as it doesn't look like Rudolph threw up all over your yard.
4. Do you hang mistletoe? I never have, but my grandparents used to at their house. Sadly, I never kissed someone underneath it. I think I forgot it was there.
5. When do you put your decorations up? It depends on how crazy things are. Some times it's the first week in December, sometimes it's on the 19th (slacker years).
6. What is your favorite holiday dish? Christmas eve dinner (technically more than a dish per-say) which consists of cream of mushroom soup (homemade), lobster, angel hair pasta and garlic green beans.
7. Favorite holiday memory as a child? My grandparents used to throw a huge Christmas Eve bash every year and I would get to see family that I don't see often. There was always so much food and great people to see. I miss those parties.
8. When and how did you learn the truth about Santa? Technically, I found out about the Easter Bunny first and it just trickled down to the other figures like Santa and the Tooth Fairy. My Dad used to have a dry erase board on the fridge and I would leave the Easter Bunny, Santa, etc. a note. Then Santa (my Dad) would write me a note back that I would read in the morning. One year I woke up and instead of a note back from the Easter Bunny, there was a note that said "Love, Dad". I freaked. I should have known it was coming because I stopped giving Santa cookies and milk and started leaving beer and pretzels. I was told Santa needed a break! I love my parents.
9. Do you open a gift on Christmas Eve? There were a few years where we were and then we stopped. I don't know why. I think it's because my sister got older and she could wait until morning to open her presents.
10. How do you decorate your Christmas tree? Well, Tim puts the tree in the stand for me and walks away. So I do it however the heck I want! LOL. I have a set of ornaments that match and then I throw in our own ornaments as well. I started putting a ribbon on the tree too.
11. Snow! Love it or dread it? Love it as long as I get off of work.
12. Can you ice skate? Not very well, but I get better as I go.
13. Do you remember your favorite gift? I can't choose one. Every year seems to top the year before. I love when my parents surprise us though. Usually we'll think all the presents are given and then they come out with these other ones and we freak out. One year I got a Coach purse and my sister got her iPod touch. Another year I got my Bose sound system and she got her motorized scooter.
14. What's the most important thing about the holidays for you? Family. Things have changed dramatically since my grandfather died a couple years ago. However, we've kept it together and started some new and different traditions that seem to be working. I hate change and yearn for how things used to be, but I'm very thankful for a wonderful and strong family.
15. What is your favorite holiday dessert? Kiffles. If you don't know what they are, they are a German cookie. My grandmother is from Germany and has always made these cookies around Christmas time every year. I have never met a person who has not liked them. I can't even describe them because it wouldn't do them justice. I promise to take pictures of them, but I can't give you the recipe because it's a family secret.
16. What is your favorite holiday tradition? Our Christmas Eve dinner that I talked about earlier. It's become just my Dad, step mom, sister and Tim. It used to be more family, but now it's less chaotic and more intimate and relaxing. The food is amazing and it's a great start to Christmas.
17. What tops your tree? I have yet to find a star I like so currently it's a bow I make from the ribbon I use on the tree. Not very special.
18. Which do you prefer: giving or receiving? I can't choose. I love opening presents. I would rather everything be wrapped individually so it looks like I have so much to open. I think it's my inner only child ( I was one for 15 years). However, I LOVE giving gifts. I always go overboard and I love seeing everyone's faces as they open them. It's a great feeling.
19. Candy canes: yuck or yum? YUM! My favorite is the fruit ones, love them!
20. Favorite Christmas show? By show, does that mean movie? I was confused by this one. I'm just going to pick It's A Wonderful Life. Have to watch it EVERY year.
21. Saddest Christmas song? Um, "Christmas Shoes" hands down. I can't even listen to it. AND it has a book to go with it, depressing!
"He said, I wanna buy these shoes, for my mama, please. It's Christmas Eve and these shoes are just her size. Can you hurry, please? Daddy says there's not much time. You see, she's been sick for quite a while and I know these shoes will make her smile and I want her to look beautiful, if mommy meets Jesus tonight."
Seriously! I can't take how sad this song is!
22. What's your favorite Christmas song? I love so many. "Last Christmas" by Wham! always makes me smile because I heart the 80s and George Michael. This year I have been obsessed with "Baby, It's Cold Outside".
So that's my Christmas Quiz, I hope you enjoyed reading my answers. Feel free to steal it, I won't be offended.
♥ Erin