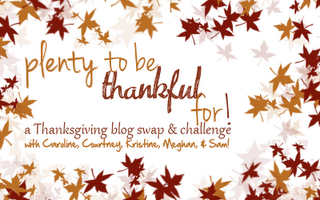 I know this link up post is late, but I promised Kristine I would do so when I got home from work since she was so gracious to link up with me last week!
I'm linking up with
Courtney
,
Kristine
,
Meghan
,
Sam
and
Caroline
for the first day of their Thanksgiving blog swap and challenge.
Today's topic is guilty pleasures, so here are a few of mine!
Best show on TV right now, hands down
My morning addiction
Nail polish fiend
I eat ANYTHING chocolate
Shopping of course
And you all know about my mascara addiction
Make sure you link up tomorrow for Day 2: I'm Thankful for You Tube and other internet fun!
♥ Erin